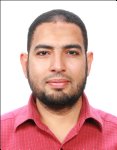 Dr.Hany Abo Mosallam
Department of Glass
National Research Center
Cairo, EGYPT


Biography
Dr. Hany Abo-Mosallam is Associate Professor in Department of Glass, National Research Center Cairo, EGYPT.he did his Doctoral studies in Ph.D. and M.Sc. in Chemistry, Faculty of Science in Shams University, Egypt. He is a Member of the Advanced Materials and Nanotechnology Society and the Egyptian Chemical Society.
Earlier, he worked as Assistant Researcher, Researcher Assistant and Researcher in Glass Research Department, NRC,Egypt. His Scientific mission as Research fellow in Department of Biomaterials Science, College of Dentistry, Dankook University, South Korea.
Research Interest
Dental materials
Glass ionomer cement
Dental cement
Ceramics
Information Links
Enquiry
Give us some quick information and we'll point you in the right direction.