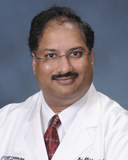 Dr.Rajasekhar Nekkanti
Department of Cardiovascular Sciences
Brody School of Medicine at East Carolina University
USA

Biography
Dr. Rajasekhar Nekkanti is working as Associate Professor of Medicine Brody School of Medicine at East Carolina University, Department of Cardiovascular Sciences, Greenville, North Carolina.
He pursued his Medical degree from Siddhartha Medical College and Research Institute, Vijayawada, India and Post-dcotoral fellowships 1997-2008 from different Universities of US. Most of his Clinical trials no Cardiovascular Diseases are funded by the medical universities.
Dr. Rajasekhar is active speaker, presenting his research in symposiums related to Cardiology. He has many publications related to Cardiology and also serves as guest reviewer for few journals.
Research Interest
Atrial Fibrillation
Cardiac Electrophysiology
Cardiology
Cardiovascular Ablation
Cardiovascular Stress Testing
Echocardiography
Heart Failure
Implantable Defibrillators
Pacemaker Implant
Stress Tests
Transesophageal Echocardiography
Information Links
Enquiry
Give us some quick information and we'll lead you in the right direction.