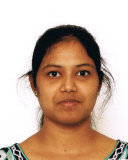 Dr.Deepa Kabirdas
Assistant Professor
Department of Cardiovascular Sciences
East Carolina University
Greenville, North Carolina
USA

Biography
Dr.Deepa Kabirdas is working as Assistant Professor in the Department of Cardiovascular Sciences at East Carolina University, Greenville, NC. She also holds the position of Director, Cardiac Intermediate Unit of Vidant Medical Center, Greenville and Director, Medical Student Clerkship, Department of Cardiovascular Sciences, East Carolina University.
Dr.Deepa Kabirdas received many honors and awards for her excellence in Echocardiography. She also has publications in National International journals. Dr.Deepa Kabirdas is active speaker and delivered lectures for the better understanding of the heart diseases.
Currently Dr.Deepa Kabirdas is working as Sub-Investigator for the "PRESERVATION – I Trial" in which she is involved as an Imaging Cardiologist to assist in performance and interpretation of echocardiography and cardiac MRI of enrolled patients at clinical trial site.
Information Links
Enquiry
Give us some quick information and we'll lead you in the right direction.