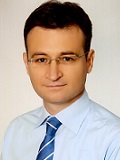 Dr.Suha Cetin
Department of Cardiology/Internal Medicine
Kudret Private Hospital
Turkey

Biography
Dr. Suha Cetin is currently working as an Interventional Cardiologist, Kudret Private Hospital, Ankara, Turkey. He has completed his MD from the University of Tübisngen, Germany.
Süha has published many research articles in reputed journals. He is serving as a referee for national and international journals and an active member of the Turkish Society of Cardiology.
Research Interest
Interventional Cardiology
Obstructive Sleep apnea
Negative Cardiac effects
Cardiology Rotation
Echocardiography
Cryptogenic Stroke
Information Links
Enquiry
Give us some quick information and we'll lead you in the right direction.