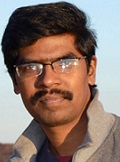 Dr.Prasad Srikakulapu
Department of Cardiology & Immunology
Robert M Berne Cardiovascular Research Center
University of Virginia, USA


Biography
Dr. Prasad Srikakulapu is currently working as Postdoctoral Research Associate at University of Virginia, Charlottesville, USA. He holds his PhD in the department of Immunology from Friedrich-Schiller University at Jena, Germany and Master of Science in Biology from Uppsala University, Sweden.
Dr. Prasad Srikakulapu worked as peer reviewer in many scientific publications. He has been awarded Travel award for young investigators, ATVB-PVD conference, Minneapolis, Minnesota, U.S.A and Travel award, 17th Germinal Centre Conference, Birmingham, UK. Second best oral presentation award in national seminar on "Environmental Biotechnology". Conducted by J.K.C.College, Guntur, AP, India. He is a member of American Heart Association. He has given many oral, poster presentations and conducted national workshops.
Research Interest
Immunology, B cell biology, Cardiology, Atherosclerosis, Obesity, Adipose tissue inflammtion
Information Links
Enquiry
Give us some quick information and we'll lead you in the right direction.