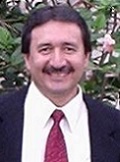 Prof. Dr. Osmar Antonio Centurión, MD, PhD, FACC, FAHA
Department of Cardiology
Asuncion National University
Asunción, Paraguay

Biography
Dr. Osmar A. Centurion is Professor of Medicine at the School of Medical Sciences from the Asuncion National University in Asunción, Paraguay. He received is PhD degree in Cardiology, at the Nagasaki University School of Medicine, Nagasaki, Japan in 1994. He is the Founding Member of Sociedad Latinoamericana de Cardiología Intervencionista (SOLACI). Author of more than 100 medical articles published in peer-reviewed American, European and Japanese journals in cardiology.
He is a Fellow of the American College of Cardiology, European Society of Cardiology, American Society of Angiology, and member of other 10 International Cardiovascular Societies. He is the Chief of the Department of Investigation at the National Heart Institute, Asuncion, Paraguay. He is currently Editorial Board Member of cardiovascular international journals
Research Interest
Cardiology
Angiology
Atrial Fibrillation
Atherosclerosis and Thrombosis
Information Links
Enquiry
Give us some quick information and we'll lead you in the right direction.