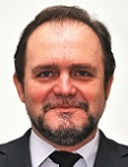 Dr.Nikolai Zhelev
Center for Molecular and Cellular Biosensor Research
University of Abertay Dundee
Scotland, UK

Biography
Dr. Nikolia Zhelev is working as Professor of Medical Biotechnology and Director in Center for Molecular and Cellular Biosensor Research (CMCBR) from University of Abertay Dundee, Scotland, UK. He holds his PhD in Biochemistry in Institute of cell Biology, Sofia. MSC in Department of Biochemistry, University of Sofia St.KI Ochridski, Sofia.
Earlier, he worked as Head in Cancer Systems Biology from University of Abertay Dundee, Scotland, UK. He is a Member of Editorial board of scientific journals like Technology in Cancer Research and Treatment, Biotechnology & Biotechnological Equipment, Medicine and Sport, Zone4science, Bio Discovery, Journal of Molecular Engineering and Systems Biology.
Research Interest
His laboratory is conducting research in the field of Drug Discovery and Development. He is working with biopharmaceutical and biotech companies on the development of novel drugs against cancer and cardiac hypertrophy. He also involved in research on Management of Biotech and Biopharmaceutical companies and in particular on issues related to funding strategies, innovations, product design and development.
Information Links
Enquiry
Give us some quick information and we'll lead you in the right direction.