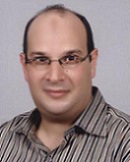 Dr. Hany Mohammed Amin Shaarawy
Department of chest diseases
Alex University
Egypt


Biography
Dr. Hany Mohammed Amin Shaarawy is Assistant Professor from Department of chest diseases in Alex University, Egypt. He completed his Studies in MS degree in chest diseases and MD degree in chest diseases from Alex University, Egypt.
Earlier, he worked as Specialist in chest diseases and tuberculosis, chest hospital, Ministry of health in state of Kuwait, Assistant Lecture and Lecturer in chest disease department, Alex University and Resident doctor in chest disease Department, Alex University.
Research Interest
Chest ultrasound
Bronchial Asthma
Chest Disease
Fiberoptic Bronchoscopy
Chest Radiology
Pulmonary Function Testing
Information Links
Enquiry
Give us some quick information and we'll lead you in the right direction.