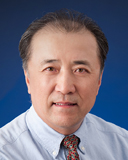 Dr.Bai-Yan Li
Department of Pharmacology
School of Pharmacy, Harbin Medical University
China

Biography
Dr.Bai-Yan Li is currently working as Professor in the department of Pharmacology in School of Pharmacy, Harbin Medical University, China. He completed his post-doctoral studies in Cardiovascular Pharmacology and Neurophysiology from Harbin Medical University, CHINA and Purdue School of IUPUI, USA respectively.
Dr.Bai-Yan Li has nearly 70 publications in various National and International journals related to Cardiology along with book chapters. He is also serving as Editorial board member and peer-reviewer for renowned journals of cardiology.
Research Interests
Sensory neuroscience related to the baroreflex afferent pathway and sex-difference in the neurocontrol of circulation
cardiovascularpahrmacology related to hypertension, arrhythemia
Electrophysiology in neurons and cardiomyocytes
Information Links
Enquiry
Give us some quick information and we'll lead you in the right direction.