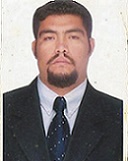 Dr. Vicente Aleixandre Benites Zapata
Intangible Solidarity Health Fund
Cayetano Heredia University
Peru
Biography
Dr. Vicente Aleixandre Benites Zapata is currently working as Data Research Analyst Intangible Solidarity Health Fund at Peruvian Ministry of Health. He is also working as Professor at Universidad de San Martín de Porres and Cayetano Heredia University in the departments of Faculty of Human Medicine and Protocol Research respectively. He is working as Associate researcher at Instituto Médico de la Mujer for Health outcomes research in gynecological endocrinology.
Dr. Vicente Aleixandre pursued his Doctoral studies from Universidad Nacional de Piura and Master of Science in Epidemiological Research from Cayetano Heredia University. His papers related to infectious diseases, cancer etc are published in National and International journals.
Research Interest
Human papillomavirus
Social Epidemiology
Chronic Cardiovascular Disease
Oncology and Renal Disease
Metabolism
Diabetes

Information Links
Enquiry
Give us some quick information and we'll point you in the right direction.