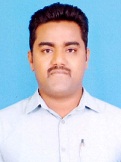 Dr. Srikanth Barkeer
Postdoctoral Research Associate
University of Nebraska Medical Center
USA
Biography
Dr. Srikanth Barkeer is a Postdoctoral Research Associate in the University of Nebraska Medical Center, USA. He completed his B.Sc. in Biotechnology, Chemistry and Zoology and M.Sc. in Biochemistry in Karnatak University, India. He holds his Ph.D. in Biochemistry, Karnatak University, Dharwad, India.
Dr. Srikanth Barkeer received many awards and honors like Research Fellowship, Agilent Technologies Project, Karnatak University, 2014, Ph.D. Fellowship, DBT- KUD Interdisciplinary Program of Life Sciences for advance research and education, Karnatak University, 2011-2013. He published many articles in national and international journals like PLoS ONE, J. Cell and Tissue Research etc.,
He attended many conferences and workshops like World Cotton Research Conference-5, Mumbai, India (2011), 32nd Annual Convention of Indian Association for Cancer Research, New Delhi, India (2013) and also American Pancreatic Association Annual Meeting, San Diego, USA (2017).
Research Interest
Oncology
Glycosylation
Molecular Biology
Biochemistry
Cell Culture
Animal Model
Bioinformatics
Information Links
Enquiry
Give us some quick information and we'll point you in the right direction.