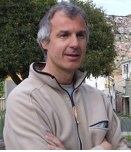 Dr. Roberto Passera
Radiochemistry Unit
San Giovanni Battista University Hospital
Italy
Biography
Dr. Roberto Passera is currently working as Head of Radiochemistry Unit at San Giovanni Battista University Hospital and he also works as Expert consultant on biostatistics and Senior Biostatistician in Italy.
Dr. Roberto Passera pursued his PhD in Clinical Pharmacokinetics from University of Torino and Post doctoral scholar in Population Pharmacokinetics Modeling from Laboratory of Applied Pharmacokinetics, University of Southern California, Los Angeles, USA.
He is working as Associate Editor and Editorial board member for national and international journals related to cancer. His research in published in most renowned journals related to cancer.
Research Interest
Biostatistics
Radiochemistry
Pharmacokinetics
Clinical Pharmacy, radio pharmacy
Clinical Epidemiology
Information Links
Enquiry
Give us some quick information and we'll point you in the right direction.