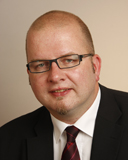 Dr.Matthias B. Stope
Department of Urology
University Medicine Greifswald
Ernst Moritz Arndt University Greifswald
Germany
Biography
Matthias B. Stopeis currently working as Senior Scientist and Head of Laboratory, Urological Research Lab, Department of Urology, University Medicine Greifswald, Ernst Moritz Arndt University Greifswald, Germany.
He studied chemistry and biology at the universities of Berlin and Greifswald. In 2002, he received the PhD degree in molecular biology from the University of Greifswald. The major focus of his scientific work is on the control of initiation and progression of tumor cells by heat shock proteins and microRNAs. His aim is to characterize molecular pathways that contribute to pathology of cancer, and could help to develop new therapeutic strategies based on biological understanding. He is a member of several journal editorial boards and scientific societies.
Research interests:
prostate cancer
breast cancer
ovarian cancer
Information Links
Enquiry
Give us some quick information and we'll point you in the right direction.