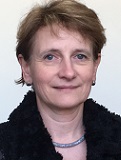 Dr. Marie-Francoise Heymann
Department of Oncology and Metabolism
The University of Sheffield
United Kingdom
Biography
Dr. Marie-Françoise Heymann is currently working as Pathologist, in the Department of Oncology and Metabolism, The University of Sheffield, United Kingdom. She pursued her Doctoral studies in the field of Health Biology and Research Management Ability in the field of Histopathology and Cell Biology from Nantes University. She holds the positions of Senior Research Fellow (registered to GMC, Pathology) and Visiting MD, Pathology Department, Hallamshire Hospital, Sheffield.
Dr. Marie-Françoise is involved in teaching and hospital activities and she is also a member of Pathophysiology of Bone Resorption and Therapy of Primitive Bone Tumors Laboratory. She is a member of Scientific societies and expert evaluations along with other responsibilities like evaluating and supervising MD & PhD students. She does Editorial activities and also published many papers in National and International journals.
Research interests:
Cancer Biology
Primitive Bone Tumors
Sporadic and hereditary neuroendocrine tumors
Refractory Thyroid Tumors
Information Links
Enquiry
Give us some quick information and we'll point you in the right direction.