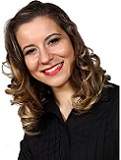 Dr. Jussara Maria Gonçalves
Federal University of Santa Catarina
Brazil
Biography
Dr. Jussara Maria Gonçalves pursuing her PhD in Federal University of Santa Catarina, UFSC, Brazil. Undergraduate degree Univille University, Brazil in 2013. She completed her master's degree in Oral Diagnosis by the Federal University of Santa Catarina - UFSC in 2016.
Dr. Jussara Maria Gonçalves, as a researcher, she carried out an inter-institutional exchange between Brazil and Germany (2012-2013) with the University Friedrich Alexander Universität where she developed researches, laboratory in the area of Dentistry. She completed her research on several projects like Radiology monitoring, Present Evaluation of a selective inhibitor of the undifferentiated and proliferative state of neoplastic stem cells, Anatomy monitoring , Stomatology Monitoring and many other.
Research Interest
Dentistry
Pathology
Stomatology
Radiology
Stem Cells
Cancer stem cells
Biomarkers
Oral Cancer
Squamous Cell Carcinoma
Immunohistochemical
Cell culture
Information Links
Enquiry
Give us some quick information and we'll point you in the right direction.