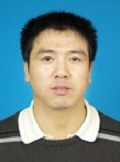 Dr. JianPing Yong
Department of Immunology
Chinese Academy of Sciences
China
Biography
Dr. JianPing Yong holds his Ph. D. in Organic Chemistry at Xinjiang Technical Institute of Physics and Chemistry, Chinese Academy of Sciences. After he finished his Post-Doctoral Research at Fujian Institute of Research on the Structure of Matter, Chinese Academy of Sciences, he is currently working as an associate professor in Xiamen Institute of Rare-earth Materials, Chinese Academy of Sciences, China. Dr. JianPing Yong published over 50 peer-reviewed scientific papers, review articles as first author or corresponding author and a number of authorized patents (U. S. patents, PCT and Chinese Patents).
Research interests
Drug design
Drug synthesis
Biological evaluation
Natural Product Chemistry
Anticancer Agents
Information Links
Enquiry
Give us some quick information and we'll point you in the right direction.