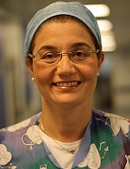 Dr. Zehra Serpil ustalar Ozgen
Department of Anesthesiology and Reanimation
Acibadem kadikoy Hospital
Istanbul, Turkey
Biography
Dr. Zehra Serpil Ustalar Ozgen is currently working as Assistant Professor in the Department of Anesthesiology and Reanimation at University of Acibadem in Turkey. She completed her Medicine in Department of Anesthesia and Reanimation from University of Marmara, Turkey.
Dr. Zehra Serpil received many awards like Society of Turkish Association of Thoracic and Cardiovascular Anesthesia. She published articles in International. She also attended to conferences.
Research Interest
Anesthesiology
Reanimation
Cardiovascular anesthesia
Information Links
Enquiry
Give us some quick information and we'll point you in the right direction.