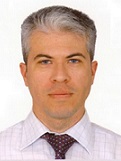 Dr. Ozgur Karcioglu
Dept. of Emergency Medicine
Istanbul Education and Research Hospital
Fatih, Istanbul, Turkey
Biography
Dr. Ozgur Karcioglu received his Doctorate in the field of Emergency Physician from the university of Dokuz Eylul University in 1998. He is currently working as faculty member in Dokuz Eylul University Medical School, Dept. of Emergency Medicine. He served as a founder and a board member of The Emergency Medical Association of Turkey between 2007 and 2009, and also member of The American College of Emergency Physicians. He worked as the associate director of the eight-week training program of 'Management of Trauma Victims' embedded in "Task-based learning" sessions in fifth-year pre-graduate medical curriculum.
He published 115 articles in international peer-reviewed journals and 61 in national ones. He contributed as editor in three books, and authored fourteen chapters, besides three translation. He has given lectures and joined in educational activities in various symposia and seminars. He also contributed in a total of 76 abstract presentations in scientific congresses and meetings. He is serving as a reviewer and Editorial member for national and international journals.
Research Interest
Resuscitation
Toxicology/ poisoning
Pain management
Trauma
Advanced life support
Emergency medicine
Injury prevention
Information Links
Enquiry
Give us some quick information and we'll point you in the right direction.