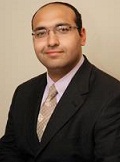 Dr. John F. Bebawy
Department of Anesthesiology & Neurological Surgery
Northwestern University Feinberg School of Medicine
Chicago
Biography
John F. Bebawy is an Associate Professor of Anesthesiology & Neurological Surgery at Northwestern University. He holds his doctor degree from Loyola University Chicago Stritch School of Medicine. He completed his Anesthesiology residency and Neurosurgical Anesthesiology fellowship training at Northwestern. He is a member of many national and international societies for the advancement of Neurosurgical Anesthesiology.
John F. Bebawy published widely on various topics in the field on areas within his expertise throughout the world. He honors with an awards like America's Best Physician from National Consumer Advisory Board and Top Doctor in Chicago, IL from The International Association of Anesthesiologists.
Research Interest
Neuroanesthesia
Cerebral physiology
Cerebral pharmacology
Adenosine
Circulatory arrest
Post-craniotomy hypertension
Awake craniotomy
Information Links
Enquiry
Give us some quick information and we'll point you in the right direction.