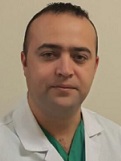 Dr. Selcuk Sarikaya
Department of Urology
Gulhane Research and Training Hospital
Turkey


Biography
Selcuk Sarikaya is currently working in the department of uorology at Gulhane research and training hospital. He was graduated from Gulhane military medical academy and Bulent Ecevit university school of medicine, Turkey. After that he started his urology residency in Kecioren research and training hospital, Turkey. During his residency, he had completed andrology observership in University college London hospital, st. Peters department of andrology with mr. David ralph.
Sarikaya has authored and reviewed many articles. He had membership in Turkish Association of Urology, European Association of Urology and many more. He participated as en editorial board member in many renowned journals. He has been awarded with ESSM Basic Scientist Travel Grant(2017) and European Urology Scholarship Programme.
Research Interest
GENERAL UROLOGY
ANDROLOGY
INFERTILITY
UROLITHIASIS
FEMALE UROLOGY

Information Links
Enquiry
Give us some quick information and we'll guide you in the right direction.