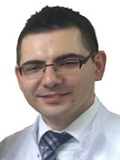 Dr. Mustafa Ozan
Department of Urology
Recep Tayyip Erdogan Üniversitesi
Turkey


Biography
Dr. Mustafa Ozan Horsanali is an MD at Recep Tayyip Erdogan Üniversitesi and worked as Medical Doctor at Izmir Atatürk Egitim ve Arastirma Hastanesi, He was graduated from Pamukkale University, Turkey. Mustafa has authored and reviewed 1263 manuscripts.
More than 37 of his articles has scientific indexing and 4 books were published. He has achieved may Awards.
Research Interest
Epidemiology
Renal Cell Carcinoma
Urologic Diseases
Urethral Stricture
Bladder Cancer
Prostate
Urologic Oncology
Information Links
Enquiry
Give us some quick information and we'll guide you in the right direction.