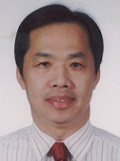 Dr. Bing-Huei Chen
Department of Nutrition and Food Science
Fu Jen University
Taiwan



Biography
Dr. Bing-Huei Chen received his Ph.D. degree in Food Science & Technology, Texas A & M University, USA. He is Distinguished Chair Professor in Fu Jen University, Taipei, Taiwan.
Dr. Bing-Huei Chen has published over 174 research articles in internationally renowned journals and authored 11 book chapters in edited books published by International Publishers. He has been honored with a young scientist award and outstanding research award by the Taiwan Association of Food Science & Technology. He also serves as Editor-in-Chief of 2 journals.
Research interests
Lipid Chemistry
Pigment Chemistry
Instrumental Analysis
Food Toxicology
Functional Food Development
Biological Activity Determination
Nanotechnology.
Information Links
Enquiry
Give us some quick information and we'll guide you in the right direction.