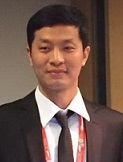 Dr. Zhi Jie Zhang
Department of rehabilitation medicine
Institute of rehabilitation medicine &sports injury
Henan Provincial Luoyang Orthopedic Hospital
China


Biography
He completed his master and doctorate studies in 2007 and 2014 in Hongkong Polytechnic University. He joins Henan Provincial Luoyang Orthopedic Hospital in 2016. Dr Zhang's research interest is on sports injury prevention and rehabilitation, in particular, on chronic pain with tendinopathy and ligamentous injuries. The viscoelastic properties of skeletal muscle and tendon was quantified using shearwave elastography or Myotonometer. He has already published10 articles in international Journal (Scan J sports med/ PLoS One/Eur J applied physiology).
Research Interest
Viscoelastic properties of skeletal muscle and tendon
Sports injuries : tendinopathy, anterior knee pain
Extracopreal shock wave therapy in chronic pain
Musculoskeletal ultrasound imaging
Information Links
Enquiry
Give us some quick information and we'll guide you in the right direction.