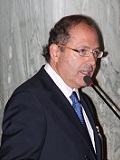 Dr. Maurizio Santomauro
Aritmology and Cardiac Pacing and Syncope Unit
University of Naples
Italy


Biography
Dr. Maurizio Santomauro was a director of Aritmology and Cardiac Pacing and Syncope Unit, Italy. He completed his Graduation in the University of Naples "Federico II" School of Medicine in 1980, Post-graduation and Master Degree in Pediatric Cardiology in 2000, Sport medicine and Diving in 2002 and Medical Management in 2003 in the University of Naples, Italy.
Dr. Maurizio Santomauro was a National President of Italian Group for Cardiac Emergency. He published More than 200 on journals and books and 50 peer-review papers. He is a Member of the Scientific Board of National and International Scientific Conferences. He is a Co-editor of publications in Italian language.
Research Interest
Cardiology
Internal Medicine
Biomedical Technologies
Arrhythmology
Cardio Stimulation
Arrhythmology in Sport and Pediatrics
Syncope
Information Links
Enquiry
Give us some quick information and we'll guide you in the right direction.