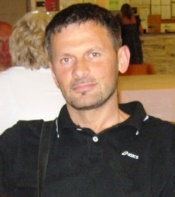 Dr. Enver (Nazmi) Tahiraj
Professor at Sports college "Universi" Pristina
Official for sports school, university and sports medicine (Ministry of sport)


Biography
Dr. Enver (Nazmi) Tahiraj is a recognized expert in the area of Sports Medicine and finished Ph.D. in Kinesiology(strength and Conditioning), University of Zagreb. He is currently working as a professor in Sport college ,University of Pristina and serving as Chairman Technical Committee for toys sports and recreation equipment (the processing of European standards and international standards in Kosovo), Ministry of Trade and Industry, government in Kosovo.
Research Interest
Sports antropology
sports recreation
physical-preparation
doping
sports managment
marketing.
Information Links
Enquiry
Give us some quick information and we'll guide you in the right direction.