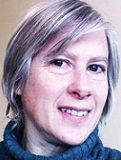 Dr. Elisabetta M. Zanetti
Industrial Bioengineering
University of Perugia
Italy


Biography
Dr Elisabetta M. Zanetti is currently working as Assistant Professor in the University of Perugia, Italy. Also worked as contract lecturer in "Bioengineering and Medical Informatics" (MSc Degree in Medicine and Surgery), University of Perugia, Perugia, Italy.
She is a member of the Editorial Board of the "Open Medical Informatics Journal" (Bentham Science Publisher, Indexed in PubMed, Google, Google Scholar). She is also a Reviewer for the following journals: Journal of Biomechanics, Journal of Sport Sciences, Open Medical Informatics, Mathematics and Computers in Simulation etc.,
Since 2017 is a member of the European Society for Artificial Organs (ESAO).
Research Interest
Applications in sport engineering
structural mechanics
Experimental and numerical stress analysis
static and dynamic characterization of materials
Biomechanics and biomaterials
Prosthesis design
soft tissue augmentations.
Information Links
Enquiry
Give us some quick information and we'll guide you in the right direction.