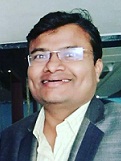 Dr. Sambhaji Govind Chintale
Department of Otorhinolaryngology
Muhs Nashik University
India


Biography
Dr Sambhaji Govind Chintale Currently Working as Associate Professor in ENT at MUHS NASHIK UNIVERSITY, INDIA. He Has Done MS In Department Of Otolaryngology From Muhs Nashik University, Maharashtra, India.
Dr. Sambhaji Govind Chintale Has Authored and Reviewed Many Scientific Manuscripts And Published In Renowed Journals Nationally And Internationally. He Is An Editorial Board Member And Active Reviewer For Many International Journals. He Also Participated In Many Social Service Activities.
Research Interest
Head Neck Surgery [Thyroid Surgery]
Rhinoplasty /Faciomaxilary Surgery
Endoscopic Ear And Nasal Suregryn
Endoscopic Sinus Surgery
Microlaryngeal Surgery
Osa Surgery / Oesophagoscopy
Information Links
Enquiry
Give us some quick information and we'll guide you in the right direction.