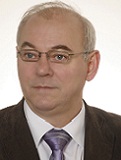 Dr. Jurek olszewski
Department of Otorhinolaryngology
Medical University of Lódz
Poland


Biography
Dr. Jurek Olszewski holds his MD and PhD from the University of Military Medical Academy in Lodz. He is the Dean and Head of the department of Otolaryngology in Military Medical University of Lodz.
Dr. Jurek Olszewski had received many medals like National Defence League Merits Gold Medal and National Education Committee Medal for distinguished service in education in 1999. He is the Member of the Polish Rehabilitation Society.
He worked as Editor and Co-Editor for text books at Medical University, Lodz. He published articles in 391 publications (302 publications printed in national journals and 89 in foreign Journals) and 517 scientific reports on 183 congresses, symposia and conferences (140 national and 43 international).
Research Interest
Vertebral Arteries
Clinical and Cytological
Empirical Antibiotic Therapy
Molecular Biology
Otolaryngological
Information Links
Enquiry
Give us some quick information and we'll guide you in the right direction.