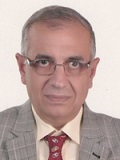 Dr. Aysser Bassaly
Department of Otolaryngology
Arab Academy for Science, Technology and Maritime Transport
Egypt


Biography
Aysser Tawfik Bassaly has obtained his Otolaryngology degree from Banha University in Egypt in 1994, then he obtained the European Board of Snoring and Sleeping Disorders from Forli, Italy in 2014. He is an Otolaryngology Consultant and the Head of the Otolaryngology Section at the Arab Academy for Science, Technology and Maritime Transport (League of Arab States) in Abo Kir, Alexandria Governorate, Egypt. He is a Rhinology and Sinoscopy Specialist and a Qualified Expert in Otolaryngology in Sleep Disordered Breathing Surgery. He is a founding member in the Pan Arab Rhinology Society (PARS). He is an instructor for aspiring otolaryngology physicians in the area of Nasal Sinoscopy Surgery, Snoring, Sleeping and Breathing Disorders.
Research Interest
Snoring
Sleeping Disorders
Rhinology and Endoscopic Surgery
Sinus Surgery
Information Links
Enquiry
Give us some quick information and we'll guide you in the right direction.