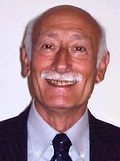 Dr. Alfio Ferlito
Professor of Otolaryngology
University of Udine School of Medicine
Italy


Biography
Dr. Alfio Ferlito Director of the Department of Surgical Sciences at the University of Udine School of Medicine and Professor and Chairman of the ENT Clinic at the same University. Dr. Alfio Ferlito graduated in medicine at the University of Bologna. He completed his residence programme in otolaryngology and subsequently in pathology. He is the Coordinator of the International Head Neck Scientific Group.
Dr. Alfio Ferlito has authored and reviewed many scientific manuscripts and published in renowed journals nationally and internationally. He is an Editorial Board member and active reviewer for many international journals. Professor Ferlito has delivered prestigious lectures all over the world.
Research Interest
Histopathology
Epigenomics
Pediatric
Cancer
Oncology
Neuroscience
Information Links
Enquiry
Give us some quick information and we'll guide you in the right direction.