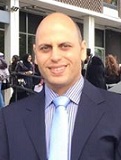 Dr. Ahmed Abdel Fattah Bayomy Nofal
Department of Otolaryngology
Zagazig University
Egypt


Biography
Dr. Ahmed Abdel Fattah Bayomy Nofal, is the Lecturer of Otolaryngology -Faculty of medicine – Zagazig university and ENT specialist in Al Salam hospitsl in Abu Dhabi – UAE. Dr. Ahmed Abdel Fattah Bayomy Nofal has done his M D. degree of Otolaryngology,Faculty of medicine from Zagazig university.
Dr. Ahmed Abdel Fattah Bayomy Nofal has authored and reviewed many scientific manuscripts and published in renowed journals nationally and internationally. He is an Editorial Board member and active reviewer for many international journals. He also participated in many conferences oral speaker.
Research Interest
Tonsillectomy
Tracheostomy
Septoplasty
FESS "Functional Endoscopic Sinus Surgery"
Ventilation tubes in the ear
Tympanoplasty
Cortical mastoidectomy
Thyroidectomy
Superficial parotidectomy
Information Links
Enquiry
Give us some quick information and we'll guide you in the right direction.