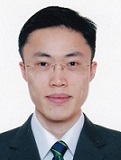 Dr. Stephen Wai Hang KWOK
Department of Nursing
Hong Kong Polytechnic University
Hong Kong


Biography
Dr. Stephen Wai Hang KWOK graduated from the School of Nursing of the Hong Kong Polytechnic University (PolyU) in 2011. He became a registered nurse and had worked as a case in-charge nurse and night shift ward in-charge nurse in the Neonatal Intensive Care Unit at Queen Mary Hospital for 5 years. Meanwhile, he finished a 3-year part-time Master of Science in Nursing with Distinction in 2016 in Hong Kong and received placement training in Denmark and Florida. He is currently a PhD student at Polytechnic University and a mentor for research students.
He finished research studies upon graduation from Bachelor and Master Degree respectively, and made presentations in Macau, Zhengzhou and Hong Kong in China respectively. He has written a journal article reporting the association between smart device use and perceived health outcomes among adolescents.
He was a member of the Pi Iota Chapter, Sigma Theta Tau International Honor Society of Nursing, IT committee member of the Hong Kong Paediatric Nurses Association, and currently the council member and Financial Secretary of the Hong Kong School Nurses Association. He has also been Reviewer and Editorial Board Member for several Journals focusing on community medicine, public health, psychiatry, mental health, pulmonology and clinical research.
Research Interest
Paediatric nursing
Intensive care nursing
School nursing
Child and adolescent mental health
Child and adolescent behavior change
Technology use and health
Information Links
Enquiry
Give us some quick information and we'll guide you in the right direction.