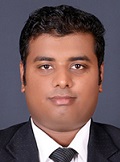 Mr. Mahipal Singh Sankhla
Department of Forensic Science
Galgotias University
India
Biography
Mr. Mahipal Singh Sankhla currently working as Junior Research Fellow JRF in Department of Chemical Engineering at Malaviya National Institute of Technology- MNIT, Jaipur. He pursuing his Ph.D. Forensic Science Galgotias University, Uttar Pradesh, India.
He attended many conferences like National Seminar on Crime Scene Management in Suspicious Deaths, held on 23rd November 2012, Organized by Department of Forensic Science, SHIATS, Allahabad. Also Presented Poster titled Touch DNA: A New Tool for Investigation in Forensic Science in National Seminar on Issue and Challenges in Forensic Medicines and Forensic science, held in 9th-10th March 2016 Organized by Department of Forensic Science, SHIATS, Allahabad.
He has published many articles in national and international journals like Journal of Environmental Science, Toxicology and Food Technology, International Journal of All Research Education and Scientific Methods.
He also received many honours and awards like "Young Scientists Award" for Best Paper Presentation in 2nd National Conference on Forensic Science and Criminalistics, Forensis Agora 2017. He is an Active Member of Organizing Committee in National Legal Desire Summit & Award, 2018.
Research interests:
Forensic Science
Criminalistics
Microbial Forensic
DNA Profiling
Information Links
Enquiry
Give us some quick information and we'll guide you in the right direction.