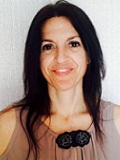 Dr. Joe Adserias
Forensic Science Postgraduate Programs
University of Girona
Girona, Spain
Biography
Dr. Joe Adserias is currently working as Director of the Postgraduate course in Forensic Anthropology in the University of Girona. She holds her PhD from the University of International de Catalunya with PhD dissertation "Molecular detection of periodontal pathogens".
She is a Member of ADA Standards Committee on Working Group on Forensic Odontology Informatics. She is Dilpomate of the American Board of Forensic Odontology (D-ABFO). She is also a Co-founder and member of the Forensic Odontologists for Human Rights Group. She is a Member of the INTERPOL DVI Odontology Working Group and Member of the INTERPOL DVI Anthropology Working Group.
Research interests:
Forensic anthroplogy
Forensic odontology
Postmortem interval estimation
Identification
Trauma analysis
Burnt remains
Information Links
Enquiry
Give us some quick information and we'll guide you in the right direction.