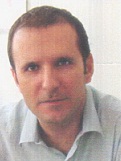 Dr. George K. Paraskevas
Department of Anatomy, Faculty of Medicine
Aristotle University of Thessaloniki
Greece
Biography
Dr. George K. Paraskevas currently working as Associate Professor of Anatomy at Department of Anatomy, Faculty of Medicine, Aristotle University of Thessaloniki (AUTh), Thessaloniki, Greece. He received his Medical degree from Medical School, Aristotle University of Thessaloniki, attained the Ph.D. degree in 2000 (degree: excellent)
In 2005 was appointed as Postdoctoral Lecturer at Department of Anatomy, AUTh and in 2010 served as Assistant Professor at the Department of Anatomy in Medical School of AUTh and since 2014 serves as Associate Professor He has also served in the past as a Visiting Professor of Anatomy at Pharmacy School (AUTh), at School of Sports Science (AUTh), at School of Arts (AUTh).
Dr. George K. Paraskevas is a member of the Editorial Board of 141 international medical journals and supervisor and member of the advisory board of 15 dissertations (Ph.D Thesis). He published over 160 papers in international medical journals indexed in PubMed and is author of several textbooks of anatomy.
Research interests:
Congenital anomalies of bones and muscles
Trauma and surgery
Entrapment syndromes of nerves neuropathies
Variational anatomy of vascular system
Embryology of gastrointestinal
Information Links
Enquiry
Give us some quick information and we'll guide you in the right direction.