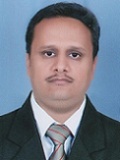 Dr. Fahd M. Abd Al Galil
Department of Zoology
Thamar University
Yemen
Biography
Dr. Fahd M. Abd Al Galil currently working as an Assistant Professor at the Department of Zoology, Faculty of Applied Science, Thamar University, Yemen. He holds his Ph.D. bachelor`s degree in Biology from Thamar University, Master degree in Zoology from University of Mysore, Karnataka State, India and also PhD. in Zoology from Dr. Babasaheb Ambedkar Marathwada University, Aurangabad, Maharashtra State, India
During his work on Forensic Entomology he have discovered two new species of forensically important insects one is belongs to Sarcophagidae family and genus of Sarcophaga, the new species named as Sarcophga geetai and the second new species belongs to Calliphoridae family and Chrysomya genus, it named as Chrysomya indiana. Also he have record one species of Calliphoridae (Chrysomya saffranea) for first time in India.
He serves as an editorial member and reviewer in several of international journals. I was invited as Chief guest and keynote address speaker in many conferences in India.
Research interests
Forensic Entomology
Medical Entomology
Taxonomy of forensic flies
Molecular Identification of forensic flies
Arboviral diseases
Insect physiology
Insect ecology
Information Links
Enquiry
Give us some quick information and we'll guide you in the right direction.