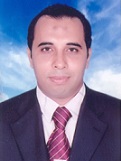 Dr. Sameh M. Farouk
Department of Cytology and Histology
Suez Canal University
Ismailia


Biography
Dr. Sameh M. Farouk is the assistant professor in Department of Cytology and Histology at Suez Canal University, Ismailia. Dr. Sameh M. Farouk have his initial education in Faculty of Veterinary Medicine, Suez Canal University, Ismailia, Egypt, where he received the B.V.M.Sc (2004). He studied Cytology and Histology at the previous-mentioned institute, and also intersted in the field of embryology and molecular developmental biology. He have got his M.V.Sc and Ph.D with a research focus epitheliomesenchymal interaction playing role in prenatal development of the kidney and uterovaginal tract in one-humped camel. He was awarded a postdoctoral fellowship and work as a visiting scientist at Molecular Neuroscience Research Center, Shiga University of Medical Science, Japan.
Research Interest
Neuroscience
Cell biology
Histology and histopathology
Embryology
Developmental biology
Immunohistochemistry
Information Links
Enquiry
Give us some quick information and we'll point you in the right direction.