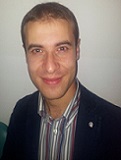 Dr. Pietro Scicchitano
Cardiology Department
Hospital of Ostuni
Ostuni (BR), Italy


Biography
Pietro Scicchitano is currently working as cardiologist in Hospital of Ostuni, Italy. He has done his degree in medicine and surgery in 2008 on thesis of "Evaluation of cardiovascular risk in patients suffering from Polycystic Ovary Syndrome". He extended his service and became member of European and Italian Society of Cardiology during the years 2012-2013. He is a peer-reviewer for many international journals and author of 82 full article in International Scientific Journals; 110 abstracts published in International Journals; 3 chapters of scientific book.
Research Interest
Cardiovascular medicine
Clinical cardiology
Diabetes and Obesity
Sleep medicine and disorders
Veins diseases
Cardiovascular pathology and histology
Arrhythmias
Information Links
Enquiry
Give us some quick information and we'll point you in the right direction.