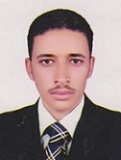 Dr. Obeid Mahmoud Mohammed Ahmed
Department of the Biochemistry
Faculty of veterinary medicine, South Valley University
Egypt


Biography
Dr. Obeid Mahmoud Mohammed Ahmed, is currently working as Assistant lecturer in the department of the Biochemistry, Faculty of veterinary medicine, South Valley University, Egypt. And also as Researcher at Tumor and cellular biochemistry dept. faculty Of Medicine, Miyazaki University, Miyazaki, Japan. Dr. Obeid Mahmoud Mohammed Ahmed is pursuing his Ph.D (ongoing) in Molecular studies for determination the function of PRMT5 in adult –T cell Leukemia (ATL) after HTLV-1 infection.
Research Interest
Digestion of Plasmid
DNA Gel Electrophoresis
Purification of DNA
PCR
Ligation
Preparation of Competent Cells
Selection of Bacteria
Gene Edition
Mutagenesis Induction
Sequencing
Information Links
Enquiry
Give us some quick information and we'll point you in the right direction.