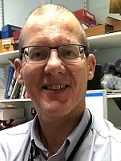 Dr. Andrew Charles Evered
Chartered and Biomedical Scientist
Department of Clinical Cytopathology
Vale of Glamorgan, Wales, UK


Biography
Dr. Andrew Charles Evered holds his PhD in Biomedical and Cognitive Science from Cardiff Metropolitan University in 2015. He is currently working as Consultant Biomedical Scientist at Public Health Wales.
He has 30 years experience as a teacher, trainer and practitioner in clinical cytopathology. He was participating in many professional activities like Member of Cervical Screening Wales Research and Audit Group, Editorial Board Member and Webmaster, etc. He published many articles in various national and international publications and attended many conferences like Are cytologists born perpendicular? BAC Annual Scientific Meeting, Liverpool, UK in 2015.
Research Interest
Medical Image Perception
Medical Decision Making And Diagnostic Error
Biomedical Image Analysis
Medical Education
Cellular Pathology
Information Links
Enquiry
Give us some quick information and we'll point you in the right direction.